By Appointment - Call or text 250.317.5233
"

Jim is a unique combination of guitar master, repair guru and great guy. His passion for the guitar shows through everything he does; I am loving the custom Tele he sold me last year. You can't go wrong with sending your babies to Jim. He'll take great care of them as he did with my Strat. Thanks brother..!"
— Brian Burnham, Kelowna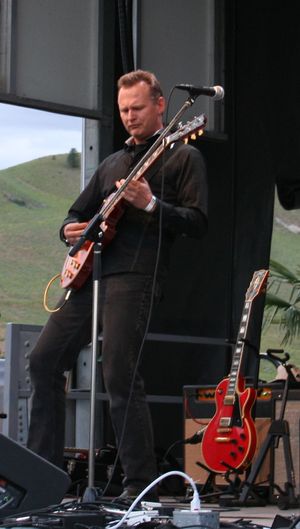 I fell in love with the guitar when I was 10 and I've been a working musician since I was 15 as a drummer, bassist, guitarist and lead vocalist. Top 40, Classic Rock and Country have been my musical mainstays and I've worked as a studio musician in Vancouver and throughout BC.
You may have heard me fronting my classic rock band Cover2Cover, performing my own songs in my band Rhindress or playing in our duo Smitten with my wife.

Through years of playing small clubs in Northern BC, I became my own guitar tech out of necessity, starting out just repairing my own guitar then doing repairs and setups for my fellow band members. Often, once people played my guitars they would bring me theirs for setup as the difference in playability is significant.

After years of working for other music stores as their setup and repair tech, I opened my own guitar repair shop in 2004 here in Kelowna called JR Guitar. Expanding beyond guitar repair, I now also build Fender style electric guitars - these strats and teles are usually my first choice to play myself.
My repair shop JR Guitar is equipped to do everything from setups to fret work to body repair for both electric and acoustic guitars, basses, mandolins, violins and cellos.

I always have a wide variety of electric and acoustic guitars for sale in stock - Click HERE to see videos of what's for sale right now. If there is something specific you're interested in, just give me a call and I can keep an eye out for you. Because I am a small shop, I am also always interested in trading gear as well so if you have an amp or an acoustic guitar you'd like to swap out for a guitar or bass, give me a call at 250.317.5233 *Please call before dropping by.
Jim is interviewed by CBC Radio on December 8, 2015 about his extensive guitar collection and passion for the instrument. Click
HERE
to listen to the interview.